A feature on Good Morning America is a big deal for any business, but for a small business, it is game-changing. Groundswell member Catania Enterprises teamed up with Amaranth Vase Company to produce a reimagined flower vase so innovative, it was promoted on Good Morning America's "Deals & Steals" this fall.
Talk to any entrepreneur and they will tell you that business success is impossible without the right team and some room for trial and error. When Amaranth Vase Company needed help bringing their unique flower vase idea to fruition, they found the budding partnership with Catania Enterprises to be just what they needed to put their ideas in motion.
Raymond and Stefanie Catania of Catania Enterprises recall meeting the founder of the Amaranth Vase Company, Mendel Schectman, years ago. Schectman had an idea for a modern flower vase that made stem trimming and replacing the water much easier, but struggled to find the right company to help move the idea into production. Showing the long-term value of networking, the Catanias and Schectman were reunited and proved to be that perfect team for the project. Together, the partners solved design, engineering and production challenges needed to put the vase into the market. Then, this fall, it was showcased as a problem-solving product from a small business during Good Morning America's "Deals & Steals."
Catania Combines Form and Function
When asked what sets Catania Enterprises apart from other development companies, Raymond highlighted the marriage of design and functionality. "We have a breadth of experience, which helps us to take on nearly any task and run with it with little or no startup time," he said. "We have the ability to work through even the toughest problems that customers can throw at us. On the inventor side, we strive to provide well thought-out designs that have an artistic and quality feel to them that really helps products stand out in the market."
In the case of the vase design, Schectman has plenty of experience in online sales and marketing, but needed help with the design and the engineering of the product. Instead of navigating the "form versus function" battle between two teams, they together came up with the current Tapered Diamond design now seen on the vases. The complex geometries posed some manufacturing challenges, but Catania was able to work through the engineering and aesthetics of the final product. It was Catania's combined expertise that not only saved Amaranth money, but time.
"I especially love when an inventor truly believes in their idea and can make me believe too. That is when I know it is going to be something great. I feed off of their excitement." – Raymond Catania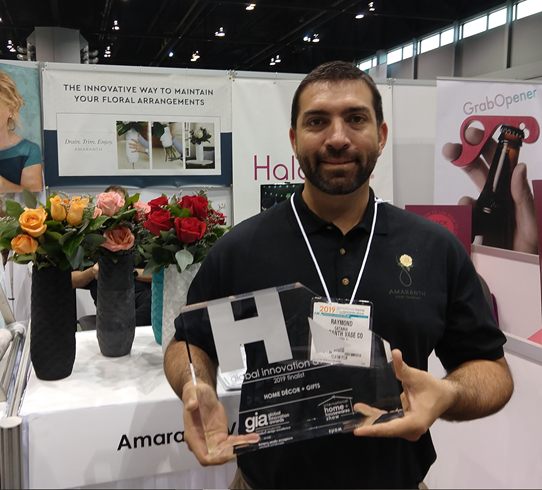 A History with Groundswell Startups
Catania Enterprises has a long history with the Groundswell community, helping companies grow with "The Triad" approach. Customizable for every project, Catania combines each company's three big needs, technical, scheduling and cost, to come up with a personalized engineering experience. At Groundswell, they began applying that technique to Tomahawk Robotics. Catania provided mechanical design for early projects and has seen tremendous growth since those small beginnings. As the company expanded, and after seeing how Groundswell supported companies through to their successes, Raymond and Stefanie decided to officially join the community. Since becoming members, their portfolio has expanded, providing mechanical engineering help to SwiftPaws, machining services to CFD, and proposal work with Sentry View Systems.
What started as a passion project for their two sons turned into another beautiful product
Catania has prioritized networking over the years, and has worked with many companies. But what makes Groundswell Startups so unique? According to Raymond, it's the level of member support. While traveling and networking along the east coast, they said that while they met amazing people at other incubators, "none of them compared to Groundswell's ability to take an interest in your company and introduce you to others that can help you both succeed. It is these connections and passion for helping others that sets Groundswell apart."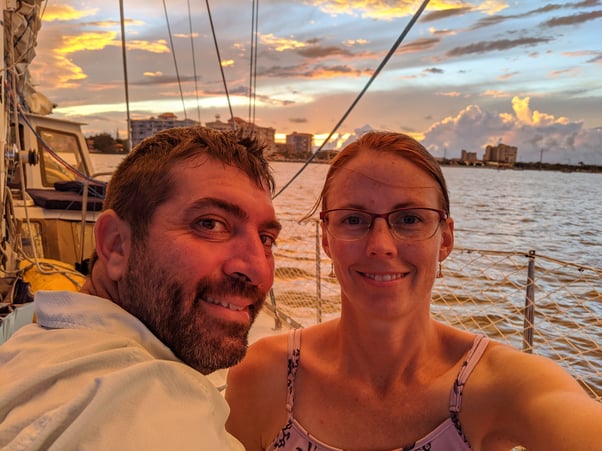 Raymond & Stefanie love to travel and gain inspiration from the people they meet and places they go
When Catania looks to the future, one thing is clear: growth. Catania Enterprises is excited about the possibility of expanding their team. However, it is not a process they take on lightly. Catania values relationships and quality of service, so they make sure that every member of the team upholds those values to their high standards. That way, all who work with Catania Enterprises can be confident that they are investing in a long term, exciting and successful partnership.