Engineers have made some pretty astonishing accomplishments in the past 100 years. In fact, it's hard not to look at just about everything around you and not be amazed at how far technology has come in such a short time. So, with all these advancements in technology, how is it that the technology industry hasn't done a better job of engineering a better work-life balance?
Most of us need to work. That's a fact. But do we need to work on such a regimented schedule that our passion for what we do gets lost in the balance between work and life?
Some companies are slowly changing their view of the traditional 9-5, 40-hour work week to improve quality of life – believing a better quality of life will bring a better product. Catania is one of those companies. Passion is the basis to our success and the driving force behind our decisions; as a matter of fact, it's the first thing we look for in new team members. Our team's passion extends to the products we design, but that passion only thrives when it has been given the freedom and flexibility to flourish.
The irony in all this is that time and time again we've seen that the overall investment in time ends up being the same. When our employees are given the freedom and flexibility to manage their projects, they consistently return with innovative ideas and methods to tackle those projects. When the project is something they are passionate about, time no longer is relevant. They want to accomplish the vision for the product. In the end, it is a win for both our customers and our team.
Christine Bralich is a Catania Mechanical Engineer whose passion is evident both at work and in her free time.  When not designing for Catania, Christine is passionate about advancing her knowledge in design and 3D printing. She attends Groundswell Startup's 3D printing meet-ups and competes in their challenges for fun. Groundswell Startups is a Melbourne, Florida-based start-up incubator that helps start-ups succeed. She's won many of these challenges as well as being a speaker for the event.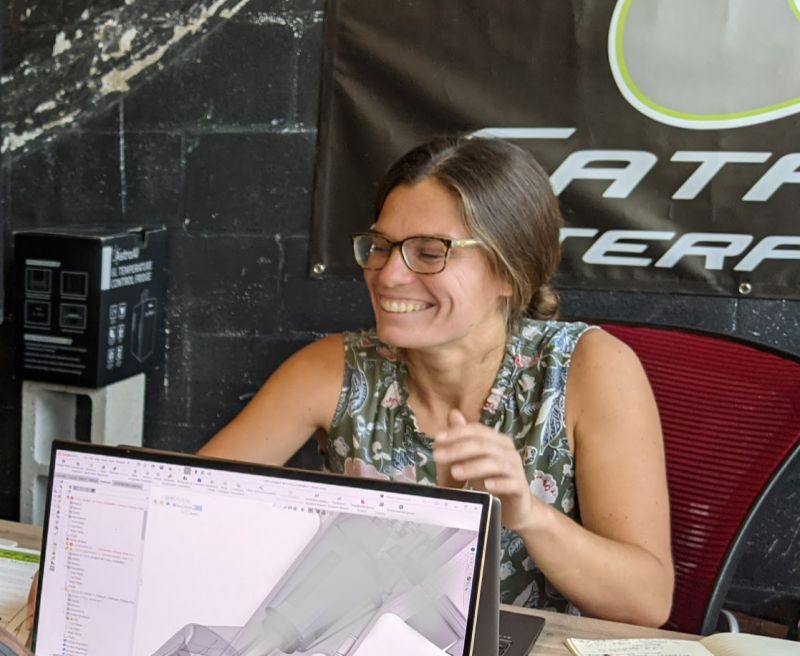 Christine working on designs with the team Ray Catania, CTO, and Stefanie Catania, CEO, are leading the team to have an optimal work-life balance.  They both love to sail, travel and experience the world, and they integrate that passion into their work.
"We like to bring what we are experiencing in the world to our customers," Stefanie said. "When we travel, we go to museums, art galleries, or walk around the city to see different types of architecture. Our experiences often prompt creative ideas to complex problems we've faced, or it may inspire us to modify a design or process, or even create something new."
Stefanie adds, "The Catania team mentality is to have freedom outside of work to truly rejuvenate and bring an individual's passion into their projects at work. We created this company so we could provide a transformative work environment for people. We want the people who work with us to have a life because there is more to life than work. For me, the love of running a company is enhanced by being able to travel with my family and homeschool my kids. Our focus is not to be the next 40-hour work week engineering company, but to create an environment that works for everyone."